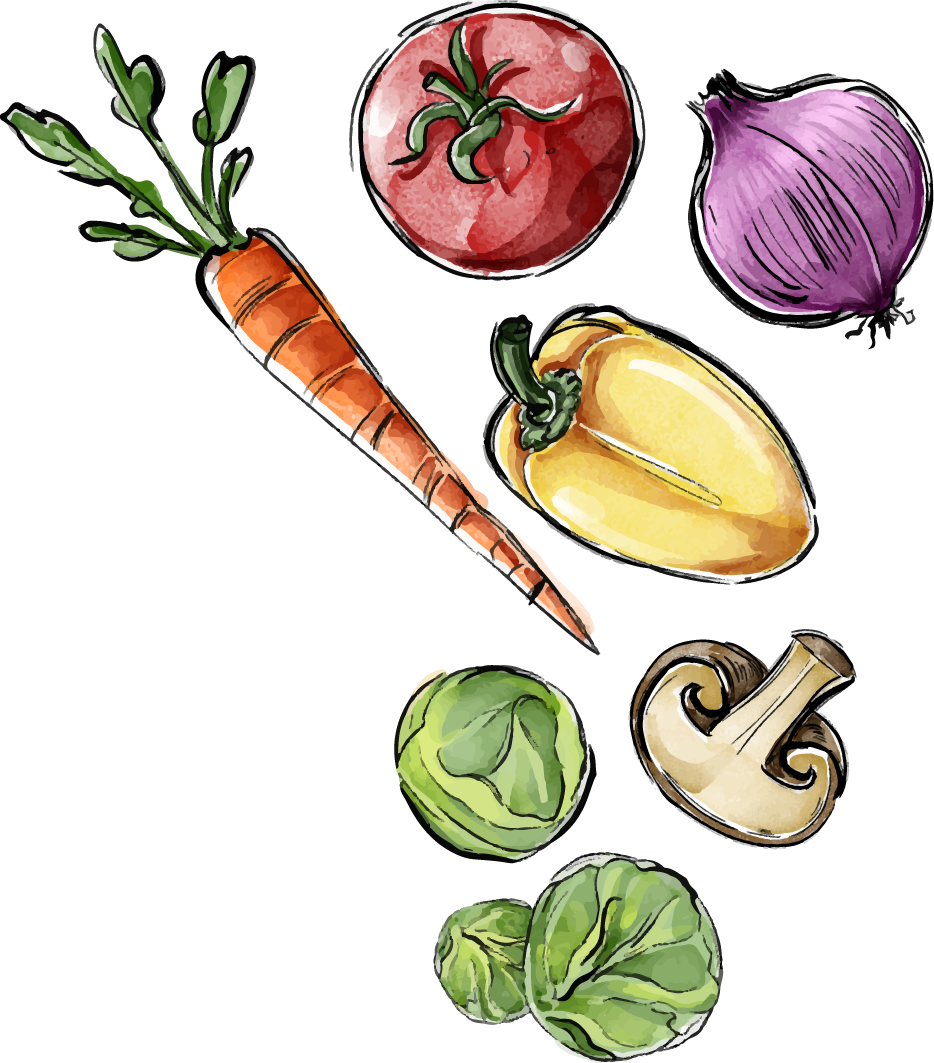 We're creating savories with the capacity to make your mouth water on first sight!
Cooking without meat is an entire arena open to creativity as far as cooking goes. Our offer is based on fresh, local and seasonal ingredients and it's constantly evolving, changing and expanding.
Once a week, on Tuesdays, we're making fresh fishes as an alternative for non-vegetarians. Otherwise, our offer is 100% meat-free and every allergen is clearly labelled.
There are some examples of vegetarian or vegan meals, that became very popular.
Veggie soups
Minestrone, Lentil soup, Chickpeas soup, Beans soup, Cabbage soup, Mushroom soup, Cauliflower soup, Broccoli soup, Leek soup, Asparagus soup, Pumpkin creamy soup with carrot, Tomato soup with pasta, vegetarian borscht …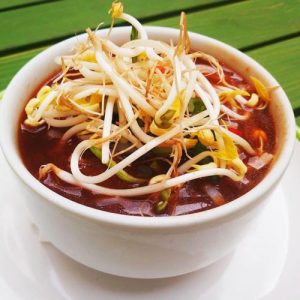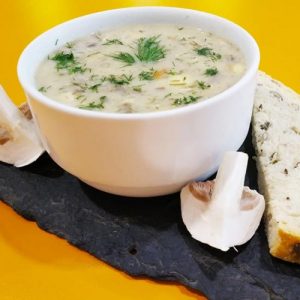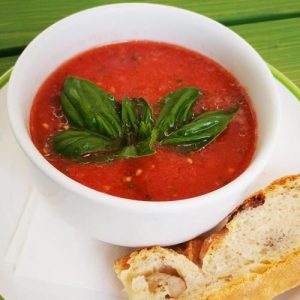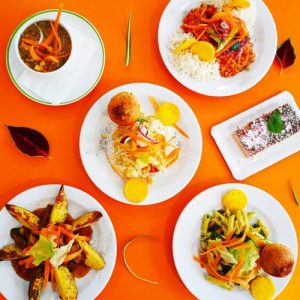 Desserts
Apple purée with fresh fruits
Soya pudding with fruits and nuts
Whipped cream with blueberries
Apple strudel with cream and raisins
Homemade plum pie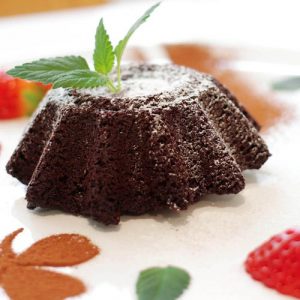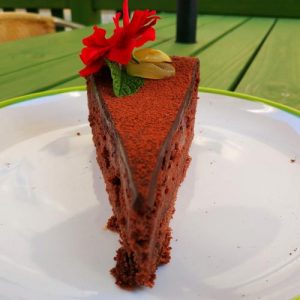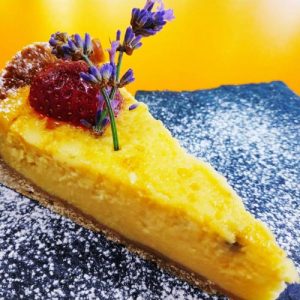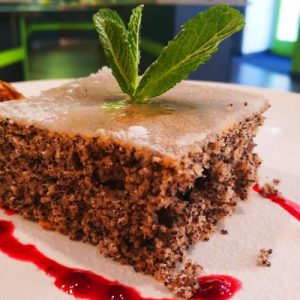 Salty main dishes
– Italian risotto with mushrooms
– Rice croquettes with herbs
– Seitan with creamy sauce with pasta
– Slovakian Potato Dumplings (Halušky) with sauerkraut and smoked tofu
– Pasta with tomato sauce with olives and zucchini
– Spaghetti with homemade green pesto and parmesan
– Soya Gyros with noodles
– Veggie ragout
– Grilled vegetables with herbs and spices
– Baked potatoes with spinach and mozzarella
– Roasted potatoes with grilled tomatoes and broccoli
– Cauliflower soufflé
– Tomatoes filled with couscous and feta cheese
– Cabbage rissole in crispy batter
– Lentil burger
– Filled mushrooms or zucchinis
– Mushroom sauce with rice
– Goulash with oyster mushroom and millet-grain dumpling
– Spinach Lasagne, Carrot Lasagne, Tomato lasagne with mozzarella
– Potato pancakes stuffed with smoke tofu
– Fried cauliflower, zucchini, mushrooms with homemade tartare sauce
– Mushed potatoes with carrot
– Tandoori lentils with tofu
– Soya stufato with wild rice
– Soya Cevapcici with onion sauce
– Oat groats with green vegetables
– Rice noodles with vegetables and ginger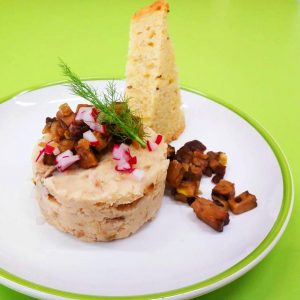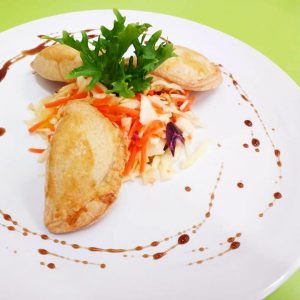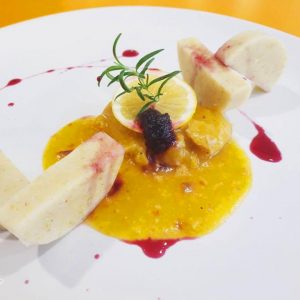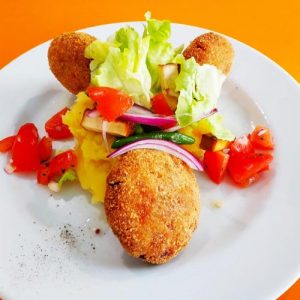 Sweet main dishes
– Baked fluffy oat crepes with honey
– Pancakes with raspberry and cream
– Filled sweets dumplings with cream cheese (with strawberries, apricots, blueberries or plums)
– Žemlovka (bread and butter pudding) with apples, cream cheese and raisin
– Donuts with fruit filling
– Pancakes with apricot sauce and cinnamon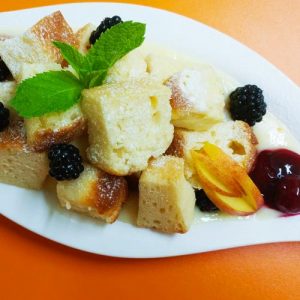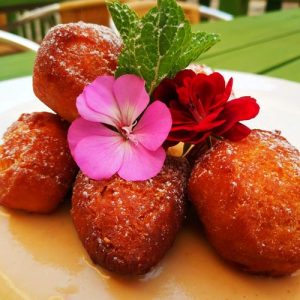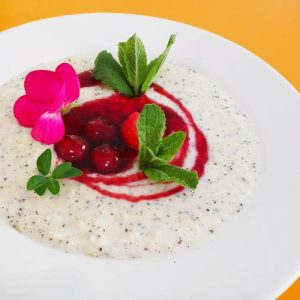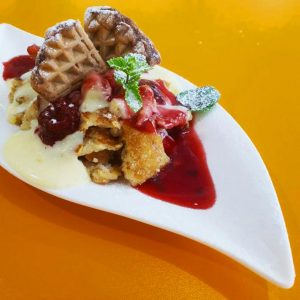 Breads
We bake our own breads and pastry every day.